There I was…standing up during a networking meeting, nervously sweating the moment coming up, where I was about to recite the dreaded "What I do is…" introduction.

This was back in the first year of my business and I didn't have a clue…about who my ideal client was (or who I was!) and what they were on fire to solve that I could help them with.

Somehow I stammered out a sentence or two. I think it was something about how I helped people change limiting beliefs.

Wow. So. Not. Powerful.

In a room full of my ideal clients it felt as if I had an invisible barrier separating them from talking with me.

I nearly went broke that year…

So very close to going broke that I had to make a new choice…

So what changed that allowed me to transition from going broke to creating a multi 7-figure coaching business year after year?

At that moment when I was at a crossroads of 'do I or don't I give up?!' I took an honest look at who I was serving and the offer I was putting out into the world.

And I made a new choice.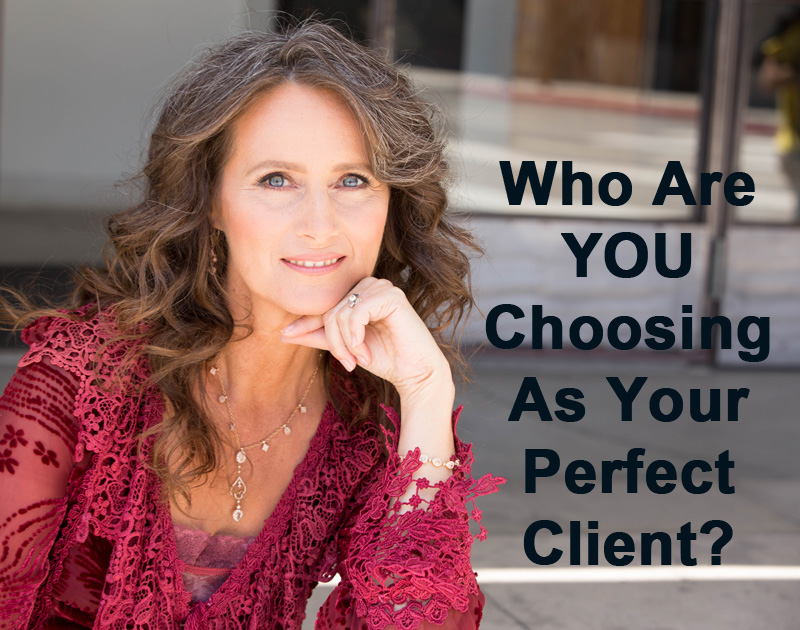 I decided to choose a new ideal client (I call her my Perfect Client).

She wasn't someone who was looking to change limiting beliefs…she was seeking to make a difference in the world.

To make her mark by helping others and creating a successful business for herself in the process.  

She defined success as achieving her goals, creating amazing results for her clients, making money she's proud of, and enjoying a laptop lifestyle of freedom.

With this new clarity my business literally turned around overnight!

My point is simple: Often the only tweak needed inside of your business that will allow you to charge premium fees  and enjoy a freedom lifestyle is in who you focus on as your Perfect Client.

Perfect clients earn that designation because you LOVE working with them and they feel full gratitude for the difference you make for them in their lives.

So let's be honest, okay? Whoever you're working with now, are they REALLY your Perfect Clients?

Are they happy to invest with you at a premium level of $3k – $15k per coaching package?

Do they show up energized to do what you know they must so they can create the transformation you know is possible for them?

Will they continue to ascend with you into higher level packages?

Will they be an inspiration for others to want to work with you?

Can you see how if you were signing on new clients every month at this level how this one simple decision would change your income and your lifestyle?

It would feel pretty cool and deeply satisfying, wouldn't it?

I've been all about premium packages for years and I'm so excited to be sharing with you how to use this mindset — and the practical steps that go with it — to help you create financial empowerment + freedom in your business!

Next, I'll reveal a practical mindset about delivering premium coaching that will help you break free of the 'I have to work hard to make money' belief that nearly every woman entrepreneur I train to be a coach secretly struggles with.

If that's you then you'll definitely want to watch this space for what I'll reveal!

Connect with you soon!
PS – What is one trait or characteristic you would love for your Perfect Client to possess? And one trait if you were to up level your coaching that you would no longer tolerate?  Comment below and share with me!