It's amazing how something as simple as how long your coaching sessions are can play a HUGE part in how much money you make .

Why?

Because too-long sessions can set you up to over-deliver, leaving you feeling drained and burned out.

Plus, long sessions mean you risk losing clients because they get antsy or worse, bored.

Which means clients don't get the results they want and don't stick with you as long, making it necessary for you to market even more to get new clients.

Ouch, right?!

Especially when what you want is to do LESS marketing!

The solution is this…

First, take a breath and exhale… 

…Because I'm going to show you simple tweaks to shorten your coaching sessions so you can keep clients happier, longer and getting awesome results.

It's all part of the *FREE* webinar training I'm leading on Tuesday, May 9th.

>>> Click Here to Discover How to Coach Like a Rock Star (FREE training) <<<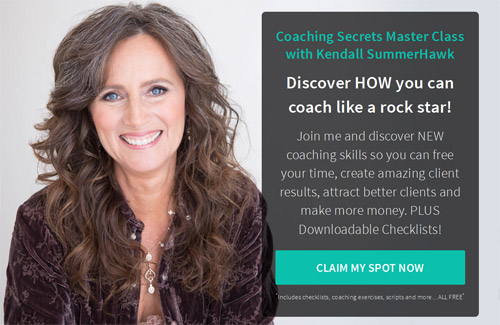 This FREE training is designed for you if you're a coach, or thinking about becoming a coach.

I'm sharing my 6-step Coaching Call Template with you right in the webinar (FREE of course). Easy, right? 🙂

Listen closely: It isn't selfish to want to shorten your client sessions.

It's caring.

  Because when you have a client's rapt attention, you can do the deeply transformational coaching you love…

…Then coach your client to take powerful action, quickly.

(I'll also share tips with you on how to create unshakeable client accountability too — it's so easy you're going to love it!) 

>>> Click Here to Discover How to Coach Like a Rock Star (FREE training) <<<

I greatly appreciate YOU and your time so I've loaded this training with strategies and how-to's you can use immediately.

(My colleagues pressured me to make this a paid class, but I'm taking a stand for giving you fabulous VALUE, all free.)

I hope you'll join me in this special 1-time only FREE online training.

I'm confident you're going to love it!
PS – When you register for the free online training you'll get instant access to a BONUS checklist, "8 Characteristics of Highly Successful Coaches".

It's a mini assessment (you'll immediately see how many of these characteristics YOU naturally possess).