Are your coaching sessions more than 30 minutes?
Do you end a coaching session feeling like you could have (should have) given more to your client?
If yes, then sister, we need to talk and here's why…
Women are naturally born to be amazing coaches.
We're awesome listeners, highly intuitive, creative, and we know how to create deep and meaningful connection.
But the desire to be of service and really help someone can also set you up to let your coaching sessions go too long, costing you time and putting you at risk of losing clients.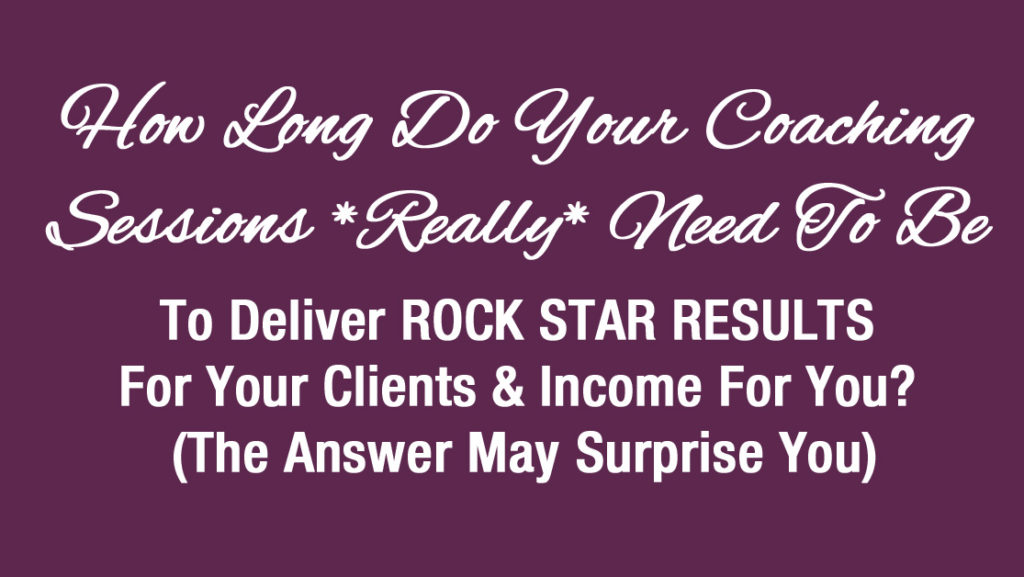 Here's how women get caught in the over-coaching trap…
Traditional coach training teaches how to run a coaching session based off of a therapy model, which is seeing clients in weekly sessions that last between 50 – 75 minutes. The therapist uses the remaining 10 – 15 minutes to update their notes in the client's file.
Seriously? I found no less than FIVE major problems with this model and why you want to avoid it.
Problem #1: Coaching isn't therapy and most therapists quickly burn out, so why would we want to model a system that isn't authentic or empowering to us as coaches?!
Problem #2: Coaching in long sessions quickly leads to burn-out for you as a coach…and boredom for your clients. Those client renewals you were counting on? Uh-huh, they won't happen.
Problem #3: Long coaching sessions are time-consuming and given the pace our clients set for themselves, you run the very real risk of hearing, "I'd love to coach with you but right now I don't have time."
Problem #4: Long sessions limit the number of clients you can have which quickly lowers the ceiling on your income potential.
Problem #5: The more time you give in a coaching session, the more likely you are to over-deliver, which is already a huge issue for coaches.
So how long should your coaching sessions be?
If you use a proven template for your coaching sessions you can do amazing work with a client in 30 minutes and even less. And you can do it without feeling rushed or in a hurry.
Here's how: In my certified coach training program we give our participants a time-tested, 6-step signature template that follows a simple outline designed to create both deep connection and results in record time. (Click here for our awesome FREE download of this template)

When you use our signature template it makes it easy for you to accomplish 4 of your key goals all at once:
Goal #1. You complete delivering your coaching session feeling that you've done an amazing job helping your clients achieve real, tangible, testimonial-producing results.
Goal #2. You feel refreshed — no burnout. And let's be honest, a happy coach is a successful coach. The alternative is feeling tired or depleted which is a slippery slope to experiencing those middle-of-the night sweats where you're doubting your coaching skills and questioning if you should even be a coach.
Goal #3. You throw out the coaching rule book about how long 'good' coaching should take, and instead sharpen your coaching skills, taking them to an entirely new level of confidence, boldness and authenticity. (This was one of the exact same secrets I used to when I wanted to jump from being a 6-figure coach to 7-figures).
Goal #4.  Your clients end their coaching sessions feeling you just delivered amazing value. You went deep, you got to the heart of what was stopping them, you helped them see what was possible and you got them aligned, authentic and empowered action. Boom!
I get how the idea of shortening your coaching sessions can feel challenging and may bring up a whole list of 'Yeah, but's…"
My coaching to you on this is to recognize those for what they are (fears) and be open to stepping into your greatness as a coach. Trust me, deeply profound coaching — the kind that shakes a client to their core and gets their booty into action — can happen with the power of just a single question.
In my certified coach trainings we always teach the soul of coaching – which is all about mindset – along with rock star coaching skills and strategies. This is what makes you courageous in your coaching.
So here's a final mindset piece to help you step fully into your courage as a rock star coach:
"Clients aren't paying for your time; the value they receive for investing in coaching is in the results they achieve." 
* Be sure to download the free coaching session template I'm sharing with you!