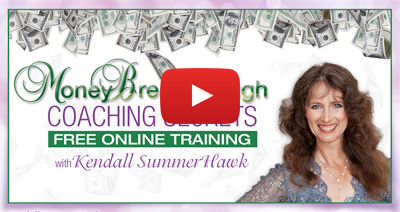 The new level you want to achieve in your business means you need a fresh approach in how you handle money, from the inside out.

This is what you'll get in this free training…and so much more.

For example, in the training TONIGHT I walk you through a quick 5-minute exercise you can do to create conscious spending (it's so simple, you're going to love it!)

There are more exercises I walk you through, too. Plus bonus mindset tips and all the promised content.

Click here to register for this free training now.

I hope I 'see' you on the webinar!

Oh, and at just under 1 hour, this free training is one you can easily slip into your day today.

Register right now and have a wonderful rest of your day!

See you tonight! :-))

Big hugs and love,

Kendall

PS – You can see the checklist of exactly what I'm covering in this free training webinar here:

MoneyBreakthroughCoachingSecrets.com

PPS –  I'm personally really touched at how many women heard about this training because of the sharing happening on social media.

You're welcome too, to share this free training with your friends — send them here to reserve their spot: MoneyBreakthroughCoachingSecrets.com
 
Here's a social media post you can share, too:
 
Free training webinar TONIGHT – discover a conscious approach to earning, spending and saving specifically designed for women entrepreneurs.
MoneyBreakthroughCoachingSecrets.com
 –