Here's an enlightening question for you…

Imagine if you were to walk into a room filled with women entrepreneurs and ask, "Who here struggles with figuring out your pricing and charging what you're worth?"

How many hands do you think would go up?

ALL of them, right?

Because every woman entrepreneur struggles with her pricing.

And no matter what stage women are at on their entrepreneurial path, every one of them has a belief that causes her to undercharge and over-deliver.

I think of it as an 'unconscious leak' in her money bucket.

And every women entrepreneur deeply desires to fix that leak so she can confidently charge what she's worth and make more money.

Which makes coaching on pricing like the holy grail for you in signing on new clients every month, even if you're just starting your coaching business.

So how do you get started?

Where do you lead your client in the coaching and what steps do you follow?

Breathe easy because I'm going to show you a simple framework for coaching women on their pricing that works brilliantly for creating exactly the outcome your client wants: confidence in her fees and making more money.

It's all part of my BRAND NEW *FREE* online workshop I'm leading on Wednesday, May 31st.

>>> NEW FREE training: 'The Soul of Pricing: 4 Secrets To Coaching Women Entrepreneurs On How to Charge What They're Worth and Get It!®'  <<<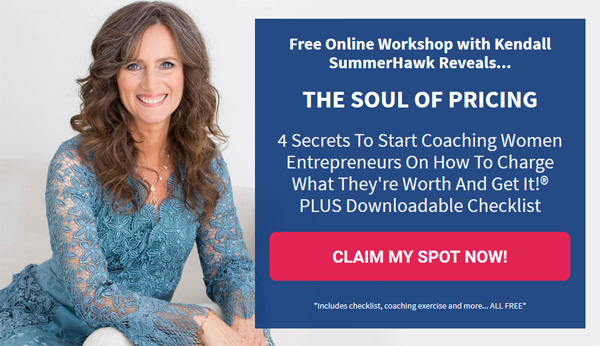 This FREE training is for you if you want to make money in your coaching business easily — without pushing yourself to market more.

Because when you have the right topic (and pricing IS that topic!) signing on new clients becomes easy and elegant.

And aren't new clients flowing into your business exactly what you want to experience more of?

I hope you'll join me in this BRAND NEW *FREE* online workshop…

I promise you're going to love the 4 secrets I share that will get you started coaching women entrepreneurs on what to charge!

It's coming up this WEDNESDAY so get your spot secured now and I'll see you on this FREE online webinar workshop.

Free training – Register Here Now

Enjoy the rest of your weekend!