Imagine what you could accomplish with personal mentoring with Kendall and her team!
Kendall has helped more women entrepreneurs — both new and advanced — begin generating 6-figure income streams than any other mentor we know of. Coaching with Kendall is your opportunity to personally work with a mentor who successfully combines marketing and business savvy with Divine Feminine principles of grace and ease.
Kendall was honored by winning the 2011 Stevie® Award for Women Helping Women, and named one of 2010's Enterprising Women of the Year by Enterprising Women Magazine, as well as winning numerous other awards for her writing and for her work empowering women to live their Soul's Divine Purpose via a thriving business, making Kendall a mentor you can trust to help you achieve your dream business.
Kendall's special focus on helping you create money breakthroughs enriches each of her signature, marketing mentoring or certified coach training programs.
So, which of these business building mentoring programs is right for you?
Courageous Coaching®: Speaking and Training Opportunities with Kendall SummerHawk

Whether you're new to coaching or you're an experienced coach, the Courageous Coaching® program with Kendall SummerHawk will make it easy for you to confidently coach anyone, on any topic, to a deep and meaningful breakthrough, in record time. You'll save time, get better results with your clients and be able to charge more once you learn the Courageous Coaching® method.
Learn more about the Courageous Coaching® program here.
Sacred Money Archetypes

®

Certified
Coach Training Program

Discover How You Can Easily Attract New Clients and Get Paid to Create Deep, Personal Transformation by Becoming a Sacred Money Archetypes® Certified Coach
Coaches, consultants, trainers, therapists, and practitioners: Imagine adding the exciting healing power of money coaching to your business so you can confidently and easily help your new and current clients demystify how to break free of their "glass money ceiling" and immediately unlock their potential to earn more money, create money harmony in their relationships, and fully own their worth in the world.

The Money Breakthrough Method® Certified Coach Training Program is right for you if you:
Are new to coaching or you're seeking to expand your business by adding a fresh, lucrative, in-demand income stream to your business
Are eager to get your hands on a proven, step by step "mini business in a box" system that is easy to market and includes all of the forms, checklists, templates, scripts, web copy, marketing training and more to help you grow and expand your business for years to come
Want to learn how to help your clients transform their deepest fears regarding money into enlightened and joyful action
Are MORE than ready to resolve and heal your OWN money issues of blame, shame, under earning, guilt, debt and more — once and for all!
>>> Join Us Today! You'll get access to the coach training including videos, audios, transcripts, handouts, plus a week-by-week curriculum outline to complete your training.
Learn more about the Sacred Money Archetypes® Certified
Coach Training Program here.
Certified Money, Marketing and Soul

®


Coach Training Program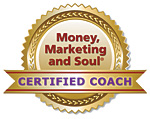 Coaching can be one of the most exciting, fulfilling and lucrative businesses ever imagined. Why? Because coaching naturally attracts women who possess a deep emotional desire to help others. They dream of creating financial freedom and imagine what life would be like if they could generate significant, consistent income. And they want the inner fulfillment and joy of reaching larger numbers of people with their message.
Now, you can live your dream with this complete "business in a box" certified coach training program. You'll be personally trained by Kendall to deliver core modules to your clients any way you choose: teleseminar, private coaching, coaching groups, workshops, weekend intensives, VIP days and more.
Plus, you'll receive all of the templates, forms and scripts you need to immediately begin generating new clients, whether you're a new or an advanced coach.
You'll learn how to market and fill your programs, how to charge what you're worth, and the fastest, easiest, highest paying ways to attract and keep ideal clients, no matter where you are in your business right now. And many of the Certified Money, Marketing and Soul® modules include exciting done-for-you materials available exclusively to you as a certified coach, to include with your programs and offers, making it even easier for you to attract the attention of your ideal clients.
Learn more about becoming a Certified Money, Marketing and Soul® Coach here.