There comes a moment in your business when you hit multiple 6-figures where everyone tells you how lucky you are, how much you've accomplished, how happy you should be…

And yet, while you certainly are grateful for what you've created, in your heart you know it's time to stop being the 'doer' in your business — with everything depending on you — leaving you with no time to grow your ideas in the way you know is possible.

This is why I created for the FIRST TIME EVER a truly unique opportunity to work together — just you and me — in a private intensive that isn't like anything else out there.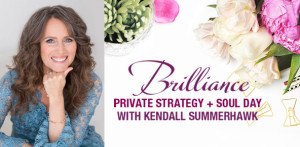 You'll get my considerable business & online expertise, creative & strategic thinking, plus my deep intuition focused on YOU.

It's time to raise the bar on the mentoring you experience.

It's time to start making decisions from where you want to be.

It's time to take a sharp right turn and position your brilliance away from the competition.

It's time to identify lucrative new streams of income and remove any money blocks secretly sabotaging you from reaching your goals.

It's time to create your million dollar path.

Intrigued?

>> Click here for an outline of what I have planned for us during our private 1-day intensive together <<

I am super excited about Brilliance as it is the perfect combination of strategy + soul and unlike anything I see out there.

Complete details are here. But don't delay!
–