This is embarrassing to admit but…

Early in my coaching career if a client came to a coaching session with even the teeniest thing outside of my too-small 'coaching comfort zone' I would totally freak out.

You know, that 'freeze, faint or flight' reaction?!

Somehow I stumbled through those coaching sessions but I felt like a fraud afterwards and my confidence would plummet.

Which affected my confidence marketing, getting new client sign ups, raising my coaching package pricing…everything was impacted!

Fast forward to now and there is literally nothing a client can bring to a coaching session that I can't handle with grace and power, while creating amazing results with my clients.

What was the ONE thing that made all the difference?

Discovering 10 simple, rock star coaching skills that ANYONE can quickly and easily master.

Say hello to your new confidence & signing on new + renewing clients!

I'm sharing exactly what these 10 rock star coaching skills are in my FREE webinar training happening TODAY.

Click here to get your spot in this FREE training TODAY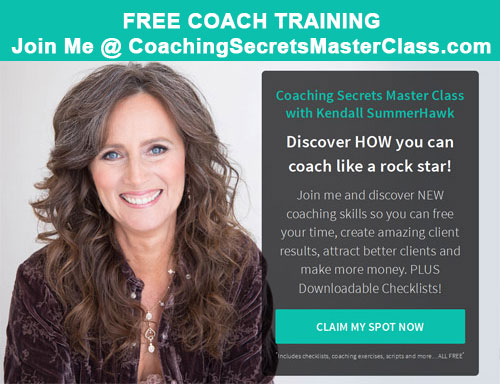 Here's what you'll discover in this content rich FREE training:
Exactly how long to make your coaching sessions (so you free your time and stop exhausting yourself with over-delivering)
Specific strategies so you can stand strong (and not get sucked into negative energy) when your clients show up with doubt, fear, indecision or insecurities
The #1 secret to creating unshakeable client accountability (with this you can increase your client success rate, keeping your business filled with renewing + new clients)
An illuminating exercise I'll walk you through to discover your core strengths as a coach
The #1 'must include' strategy in all your coaching packages that doubles — and even triples — how long clients will stick with you as their coach
I hope you'll join me TODAY!
Because becoming a rock star coach is how you create amazing client results, attract high-end clients and make more money in your coaching business.
Click here to get your spot in this FREE training TODAY
Here's to YOU discovering my 10 rock star coaching skills that keep your business filled with new + renewing clients!
PS – When you register you'll get the bonus downloadable training handouts.