Kendall SummerHawk skillfully blends Divine Feminine intuition with practical marketing and business savvy — and the result is a multi-million dollar business that empowers women entrepreneurs to charge what they're worth and get it!
Beloved by women business owners world-wide for her inspiring and practical business building strategies, Kendall SummerHawk is a leader in the women entrepreneurs success movement.
Kendall was honored by winning the 2011 Stevie® Award for Women Helping Women, and named one of 2010's Enterprising Women of the Year by Enterprising Women Magazine, as well as winning numerous other awards for her writing and for her work empowering women to live their Soul's Divine Purpose via a thriving business.


While it now looks like I have it all figured out, it hasn't always been this way…
I wanted to be an entrepreneur ever since I was a little girl, watching my mom run her successful hairdressing business. She always told me to work for myself, so that I could be independent and take control of my future. So…
I started my first "business" at 12, selling flowers on the street corner. After two days, my mom put a stop to it.
I wrote my first business plan that same year, on notebook paper and with pencil. It was for a horse training business. I gave it to a relative, sure that he would see the same opportunity I did. He didn't. He laughed and threw it away.
At 17 I built a massage table (that thing weighed a ton and gave me a neck ache caring it around). I traded house cleaning for massage lessons while at the same time started lining up clients at $25 per rub. A great way to make money in high school but I couldn't see making a career of it.
And after years of waiting tables, barely making $25 per day, I finally started to find my groove by landing an opportunity to work for a variety of different start-up companies. On the plus side, I learned a ton about starting a business, running teams and making sales. On the flip side, I worked 80 hour weeks for little pay and lived through a couple of those companies going out of business.
I cried more in the first couple of years in business than in my entire life!
Fed up with being told what to do at my job, I quit to start my own business. But with no clear direction I had few clients, on top of a floundering marriage and a rapidly dwindling savings account. To say I was struggling is an understatement!
My breaking point came the day I forced myself to pull up my old resume on my computer, ready to dust it off and begin looking for a "real job". At that moment, the thought of giving up my entrepreneurial dream made me feel sick to my stomach. So instead of updating my resume, I deleted it – permanently! – from my computer.
Having burned that bridge, I got serious about learning everything I could about marketing both offline and online. I niched my business and started lining up speaking engagements, which quickly resulted in new clients. Oh, and I also filed for divorce.
That's when I discovered a critical secret that I now teach all of my clients…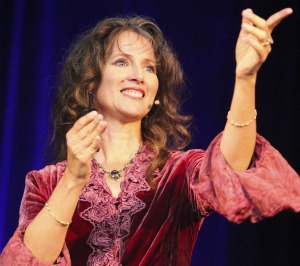 It's easier to make more money than it is to make less.
Most women entrepreneurs are working far too hard, for too little income.
Which is why I now focus all of my best-selling certification training programs, home-study courses, teleseminar trainings, live events and mentoring programs on one simple goal: to give women step-by-step training and mentoring on how to generate fabulous money, doing what they love, and in record time.
Which is also why:
I've mentored more women to add 6 and multi 6-figures to their business than any other mentor I know of.
Our clients are generating 5-figure months (that's over $10,000), often for the first time ever, using my simple strategies.
Using my step-by-step training, our clients learn how to stop trading "dollars-per-hour" and instead, create lucrative VIP Days, high-end coaching programs and more, even BEFORE they have a list or big-name recognition.
Our clients are changing their perspective about money — from how much they believe they can make, to charging what they're worth and getting it, to how much they are valuing themselves, and more —and for the first time, they're feeling a surge of confidence, hope and renewal that yes, they can achieve freedom via a thriving, successful business.
Our mentoring programs have grown over 400% in the last year alone, thanks to the dozens of amazing successes of our program members — women entrepreneurs in all stages of their business development, from just getting started to seeking ways to add leverage and multiple streams of income.
Our business has rapidly grown from frustrating 5-figures to multiple millions per year — and keeps growing — even during the worst recession in decades. How? By using the same step-by-step money, marketing and soul® strategies I teach our clients.
I don't have a college degree. I've never taken a formal writing course in my life. And the most terrifying moments of my entrepreneurial journey also provided the biggest opportunities for a breakthrough. Which means if I can achieve this kind of success, so can you!
Yes, I work with my husband and no, that doesn't make us crazy…
My husband, Richard Shapiro, is also my business partner. Together, we run our multi-million dollar business from home. How do we do it? By respecting the gifts and talents each of us brings to the business and not trying to make the other person be who they're not. And even though I confess I have a strong "Inner Control Goddess", I let go of the temptation to micro-manage how Richard does his work. That alone keeps our business and our marriage harmonious!
Co-founding a revolution in the coaching profession…
In 2010 Richard and I co-founded the award-winning International Association of Women in Business Coaching (the IAWBC). Our goal? To transform the dream of coaching into a financially and spiritually rich business. We currently have over 650+ members (and growing), and thanks to focusing on giving women business owners training and done-for-you marketing tools to quickly create fabulous income as a coach, the IAWBC is fast becoming regarded as the premier coach training organization in the world.
Which leads me to…
Why I am now regarded as the leading voice on healing a woman's relationship with money…
Women from all walks of life and at all income levels secretly struggle with charging what they're worth and valuing themselves. Women give away their power with money every day, and it breaks my heart because it's preventing them from achieving their full potential.
I believe and have proven that making fabulous money is part of your spiritual path. And I back it up with practical, step-by-step marketing strategies that are in alignment with a woman's values and integrity. With these strategies to follow, and with my intuitive gift at accurately uncovering what makes a woman tick when it comes to money, every woman entrepreneur can create the financial and spiritual freedom she desires.
On the personal side, my passions include …
Dark chocolate … riding my Andalusian horses … roses and lilies … honesty … Italian food … deep soft blue … chocolate truffles … soul music … flowers on my desk … a beautiful home … appreciation …velvet and lace blouses worn with blue jeans … cowgirl boots in every color … beauty wherever I look … hearing excitement in my clients' voices … creating money breakthroughs … dancing with Richard … did I already mention dark chocolate?