I thought you could use a little shot of thoughtful specialness today…from me to you.

No strings attached. Pure generosity. All FREE.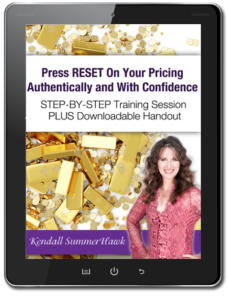 Are you ready to start charging higher fees?
Does a part of you freak out (yes, that's the technical term for it) at quoting bigger numbers?
In this 15 minute Free Audio Visualization I'll walk you through
how to connect the soul of why you do what you do, with pricing that reflects the value you bring to your clients.
All so you can confidently charge more.
Isn't it time to start shifting beliefs about your fees that no longer serve you…so you can consciously claim your worth and effortlessly stop undercharging?
I designed this FREE guided visualization + companion handout to help you serve at your highest level, creating your business with feminine grace and ease.
>> Access your FREE pricing visualization audio + companion handout here <<
Love,
Kendall
–