I admit I'm one of those girls who likes to know ahead of time what I'm going to say.

Especially when it comes to making an offer, because 'winging it' leaves too much wiggle room to get nervous, talk too much, bumble or just generally sound unconfident.

Maybe you've been there, right?

This is why I created a script that feels natural for me, sounds authentic to my client, and closes the sale with grace and ease.

And I LOVE teaching it to my clients so they can start signing on new clients, on the spot.

Even better still, I love demonstrating what to say because then you get to hear me model the energy and inflection behind the words.

Because it isn't just what you say, it's how you say it that creates the results you want: new, high-end clients you're passionate about working with.

I thought you might appreciate taking a peek at the script I teach my clients to use…sound good? Read on…

This script is just 1 of 8 scripts included with my online video workshop Package, Price + Sell  that you can get ON SALE NOW.

Here is the peek at the script I promised you…

This is how you elegantly transition into making your offer at the end of a discovery session (only it's so graceful, it won't 'feel' like an offer).

First, sit back in your chair, exhale and smile.

Then ask,

"Would it be okay if I took a couple of minutes to let you know how we can work together, so you can get the results you want?"

"You no longer need to struggle with (briefly recap their issues). Imagine having (paint the picture for them of what they can have, feel, do and be instead)."

"You can have all that and here's how – I created my (name of your coaching package) to help you XYZ (this is your 1-2 sentence description of the core, tangible results and feelings your clients get from your package)"

"Does this sound like what you've been looking for?"

Then what follows next?

Discussing the money part, and there are definitely crucial do's and don'ts I teach on how to do this, including which words to avoid at all costs, and which to always use instead.

Getting your packages done, your pricing done, and using an elegant script like this is how you can start creating income right now in your coaching business.

It's all inside my complete Package, Price + Sell Online Video Workshop that you can get ON SALE today.

You get my complete training on all 3 of these essential learning topics, PLUS scripts, PLUS you get to watch me demonstrate exactly how to make your offer.

Honestly, the demonstration alone is priceless!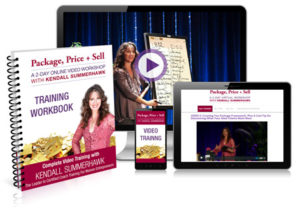 I walk you through the exact steps to creating your packages & pricing, then how to confidently make an offer that is easy, elegant and results in you signing on new clients.

Plus you get to see me demonstrating every step, which takes away all the guesswork.

(There's even a BONUS demonstration of me coaching 2 of my clients through a discovery session, so you get to see exactly what to do…and what to avoid.)

If you're ready to get your packages, pricing and discovery sessions handled so you can free your energy, boost your confidence and bring in income, then let's get you started today with instant access to Package, Price + Sell.

Click here for details – SALE ENDS this SATURDAY, AUGUST 5th.