Proven Products To Help You Quickly Move Away From "Dollars for Hours Work" and Create More Money, Marketing and Soul® In Your Business
Which business building course do YOU most want?

Did you know that VIP Days can be added to any business model and are so simple to implement, most entrepreneurs are up and running with their first lucrative VIP Day offer in a matter of just a few hours?
You're ready to offer VIP Days if:
You have a topic you're passionate about
You recognize you've been playing small (under charging and over delivering)
You need to generate income quickly
You really love working with clients but just need to make a lot more money
You've been looking for something simple to launch — that pays off big — that doesn't involve complex or lengthy marketing campaigns
And to make this easy for you, I've included all of the templates, sample emails, step by step checklists, sample forms, and practically done for you materials you need to get started right away offering your own VIP Days. If you've ever wanted to implement VIP days in your business but didn't know where to start, this best-selling course will show you.
Learn more and get your copy here …

If you're a coach, consultant, healer, speaker, trainer or any kind of service professional, then the crucial skills you simply must master to grow your business are your ability to:
Generate new clients any time you need to boost your cash flow, fill your programs, sell more of your products and enroll people into your workshops
Confidently share what you do and the benefits of your service in a way that results in ideal, high-paying clients, a high percentage of the time
Know exactly what to offer at the end of each conversation that creates consistent income for you and your business
this Discovery Session Secrets training telecourse is for you if you love to give generously … but are in real need of a system that protects you from over delivering AND supports you in filling your programs, workshops, teleseminars, VIP Days and client spots with ideal clients, any time you desire, with feminine grace and ease.
This is it, and I'm ready to walk you through exactly how, step by step…
Learn more and get your copy here …

Designed for every woman who wants to attract and keep more ideal clients, fill her programs, courses and workshops faster, plus generate more sales of her products and services.
This training course will benefit you whether you're already in business or you are thinking about starting a new business. Even seasoned entrepreneurs need to re-focus their niche at least once per year.
This previously sold out program is now available to you as a complete home-study course. Includes all exercise handouts, templates, checklists and more…all personally taught by me to help YOU discover the lucrative and authentic niche you are divinely meant to serve.
Learn more and get your copy here…

This home-study course is for every woman entrepreneur who wants to share her magic from the stage. Ladies, this is YOUR moment to shine your light, all while securing income, credibility, opportunities and more from your first — or your next — live event.
And best of all, you don't have to be a professional speaker or even have a big list to benefit from this course. Everything I'm teaching will work for you no matter if you're just starting out or you're a seasoned entrepreneur. If delivering live events is in your future then I URGE you to get your hands on this training course, today. Includes my personal time (and money) saving checklists, templates and scripts.
Learn more and get your copy here …

Brilliance Unbridled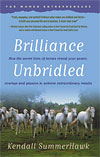 "Fresh, engaging, and spirited! Embrace what makes you brilliant and thrive–in both your personal life and in business. A must-read-now!" ~Kristine Carlson, NY Times Best-selling author of Don't Sweat the Small Stuff for Women and co-author with Richard Carlson of Don't Sweat the Small Stuff in Love
Download the free chapter, Buck Up from my book, Brilliance Unbridled.