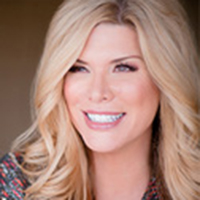 Kendall is the "money guru" for women entrepreneurs
Kendall is the "money guru" for women entrepreneurs. Her gift in helping women see their true value and helping them find the courage to step out into the world in a big way is a treasure for women everywhere.
Ali Brown,
AliBrown.com, Entrepreneur & CEO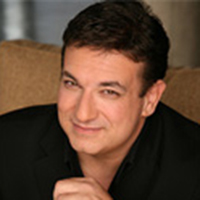 Kendall's work with women entrepreneurs and money is nothing short of brilliant!
Kendall's work with women entrepreneurs and money is nothing short of brilliant! Her ability to accurately see into a woman's soul — through the lens of money — is a gift that is helping women change their income, and their lives.
David Neagle,
DavidNeagle.com, Millionaire Success & Wealth Consciousness Mentor for Entrepreneurs and Speakers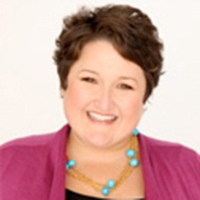 Kendall delivers the goods when it comes to kick butt motivation
Charge more for your work? Hell yeah! Kendall delivers the goods when it comes to kick butt motivation and 'get it done now' systems for helping women entrepreneurs make more money!
Suzanne Evans,
SuzanneEvans.org, "Tell it like it is", No Fluff Boss of Business Building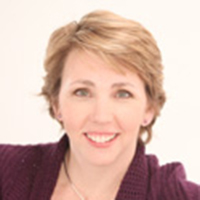 I love, love, love Kendall's approach to helping women entrepreneurs
I love, love, love Kendall's approach to helping women entrepreneurs see the value they have to offer the world – in a way that honors their soul's purpose AND opens the doors to a lifetime of financial abundance!
Christine Kloser,
TransformationalAuthor.com, Spiritual Guide, Award-Winning Author, Transformational Book Coach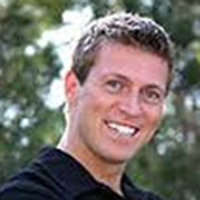 Kendall SummerHawk just oozes abundance
I've never met anyone with a more powerful mindset around money and pricing. Kendall SummerHawk just oozes abundance. Simply being in her energy will lift you up and help you attract more money and success into your life (and you won't be able to help but to share it with your clients too). Spend time with Kendall! You'll be glad you did.
Christian Mickelsen,
CoachesWithClients.com, CEO
Kendall cuts through the confusion and gets you straight to what matters so you can increase your income, authentically and powerfully!
Women come to business from different backgrounds and different views on money, and it can easily stop them from growing their business and reaching their vision. They may not even know it's holding them back until they get stuck at a certain income level! Kendall cuts through the confusion and gets you straight to what matters so you can increase your income, authentically and powerfully!
Milana Leshinsky
Milana.com, Entrepreneur, Strategist, Innovator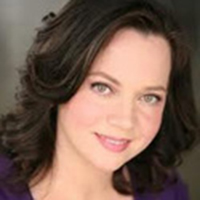 Kendall's insights into what makes women entrepreneurs tick when it comes to money is extraordinary!
Kendall's insights into what makes women entrepreneurs tick when it comes to money is extraordinary! Her brilliant blend of practical "money systems" plus her intuition will help you quickly stop sabotaging your finances and immediately help you start making more money…and start keeping more of what you make!
Bernadette Doyle,
ClientMagnets.com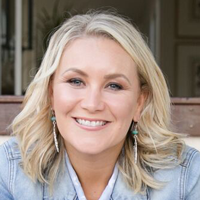 I will always be thankful to Kendall, my first ever money coach, for opening my eyes to my true power to create wealth. Kendall's heart, practical wisdom and generosity is unparalleled. Thank you Kendall for changing my life forever.
Denise Duffield-Thomas,
DeniseDT.com
More Success Stories
From Our Signature Certified Coach Trainings with Kendall SummerHawk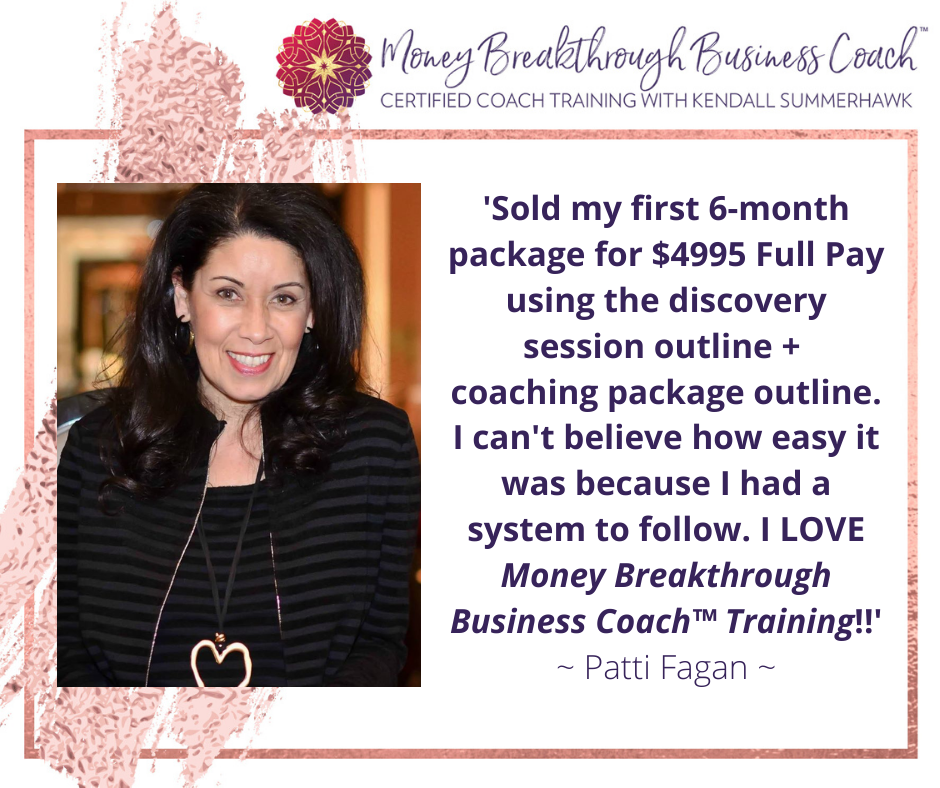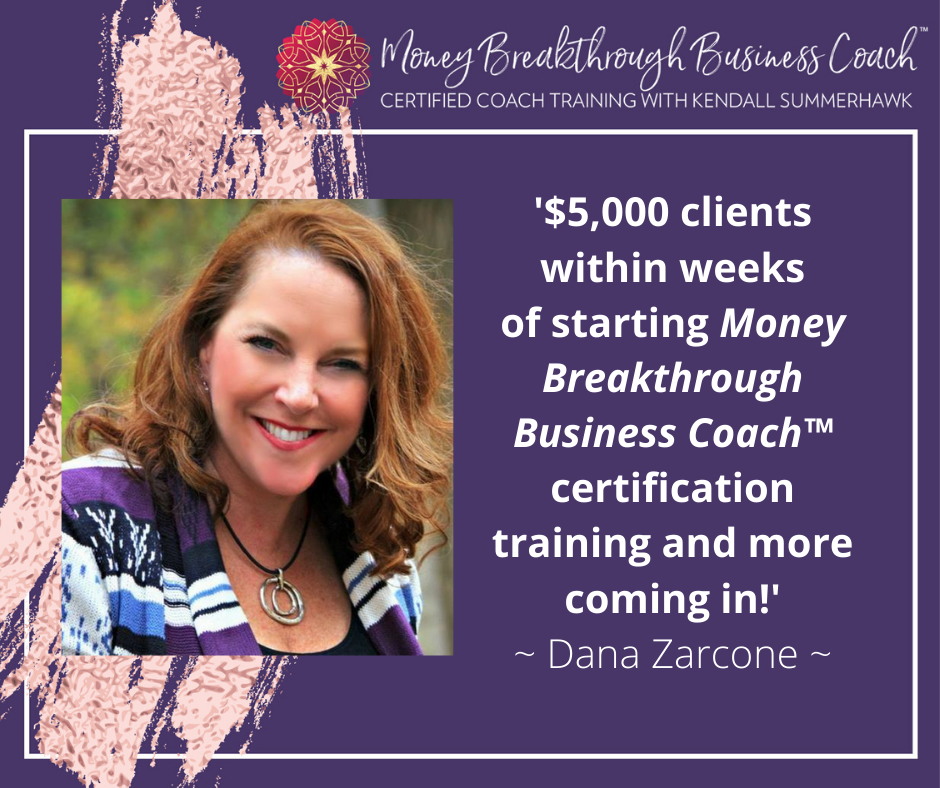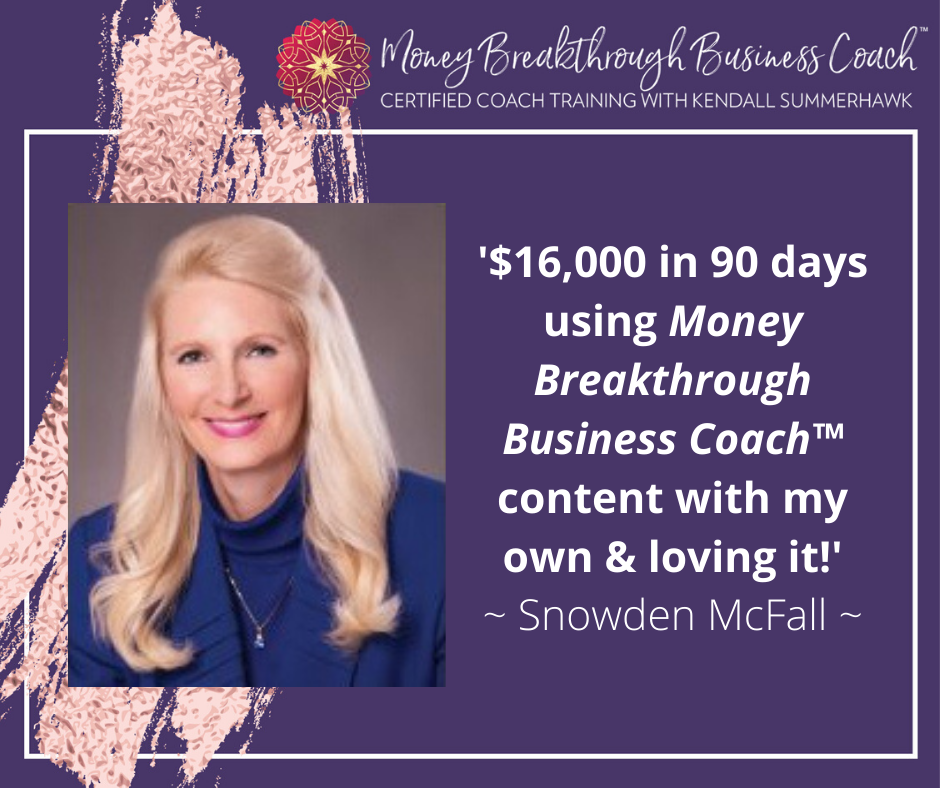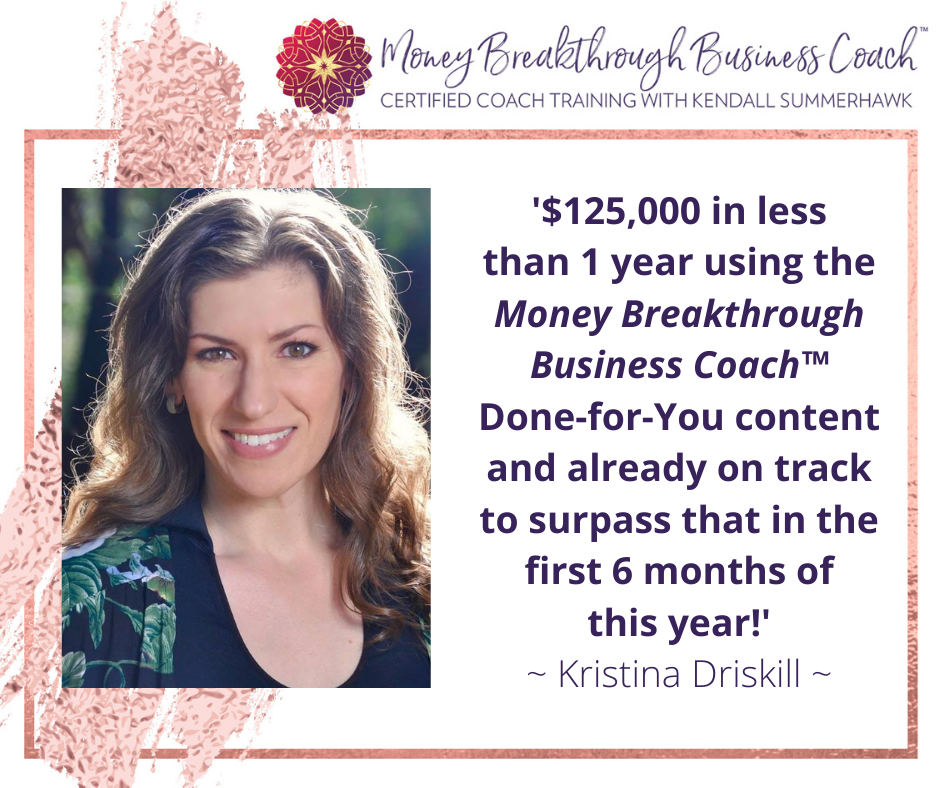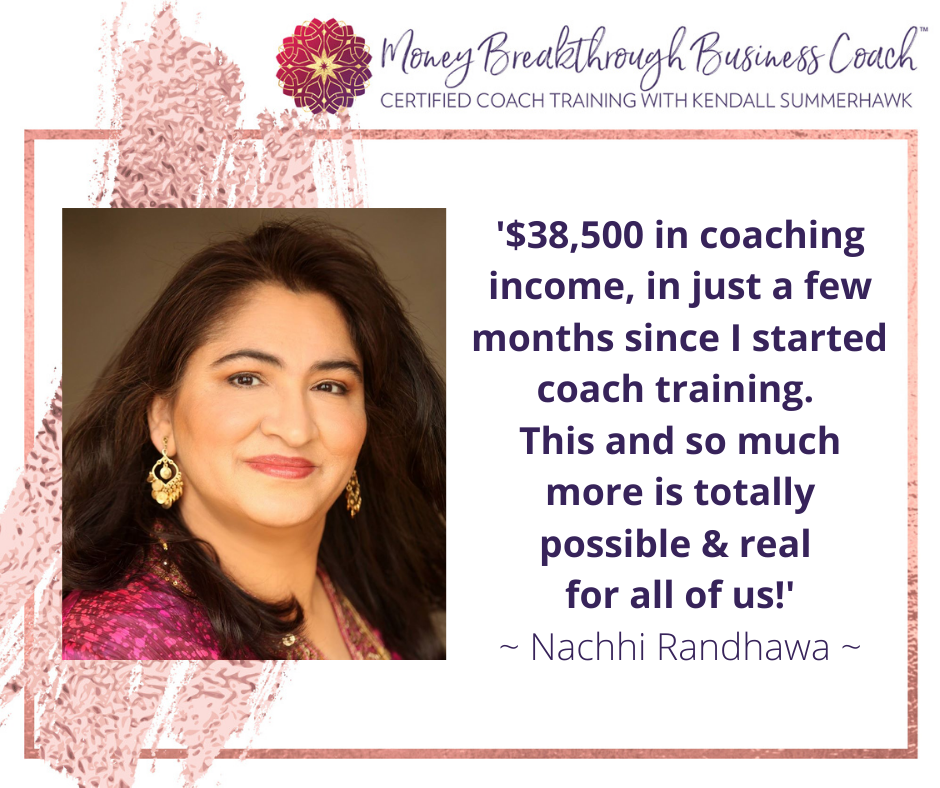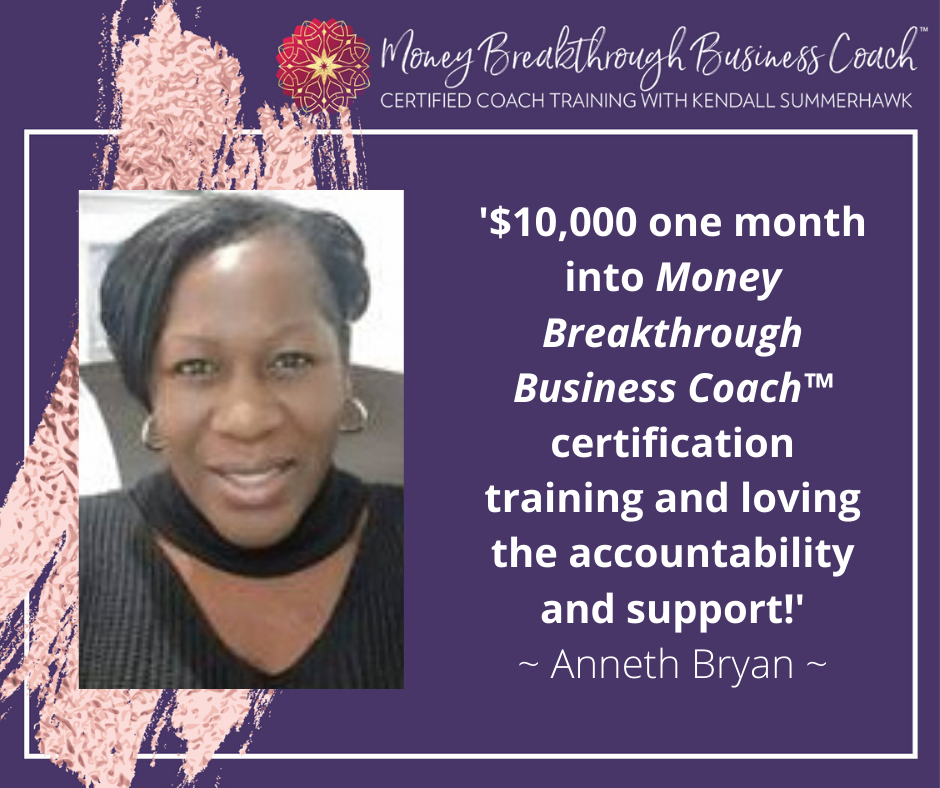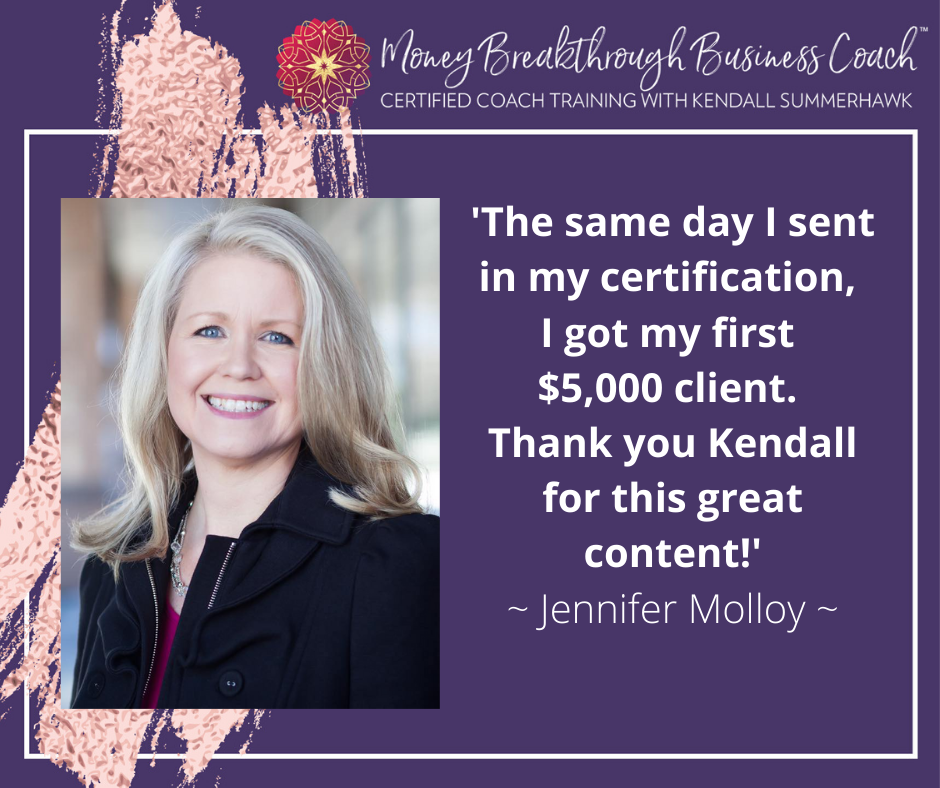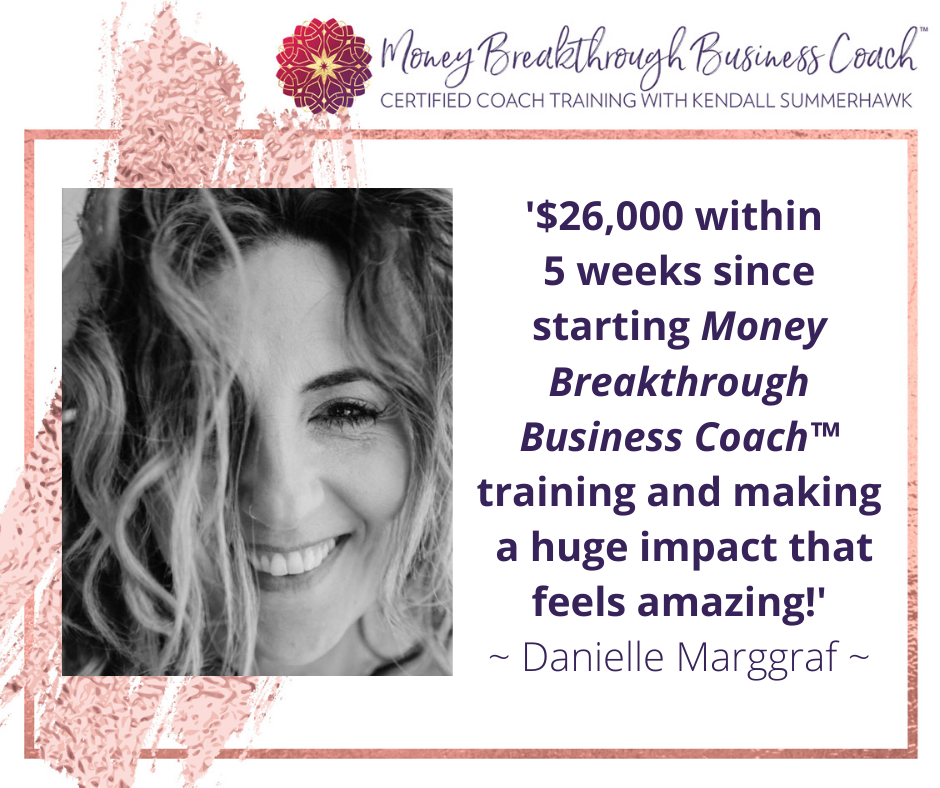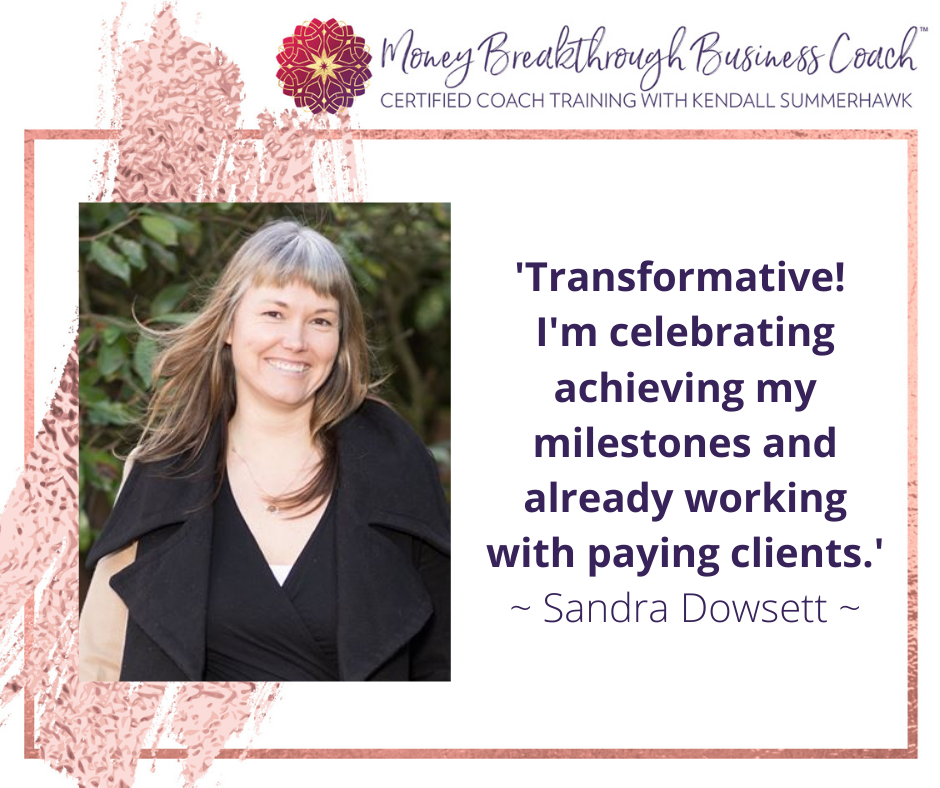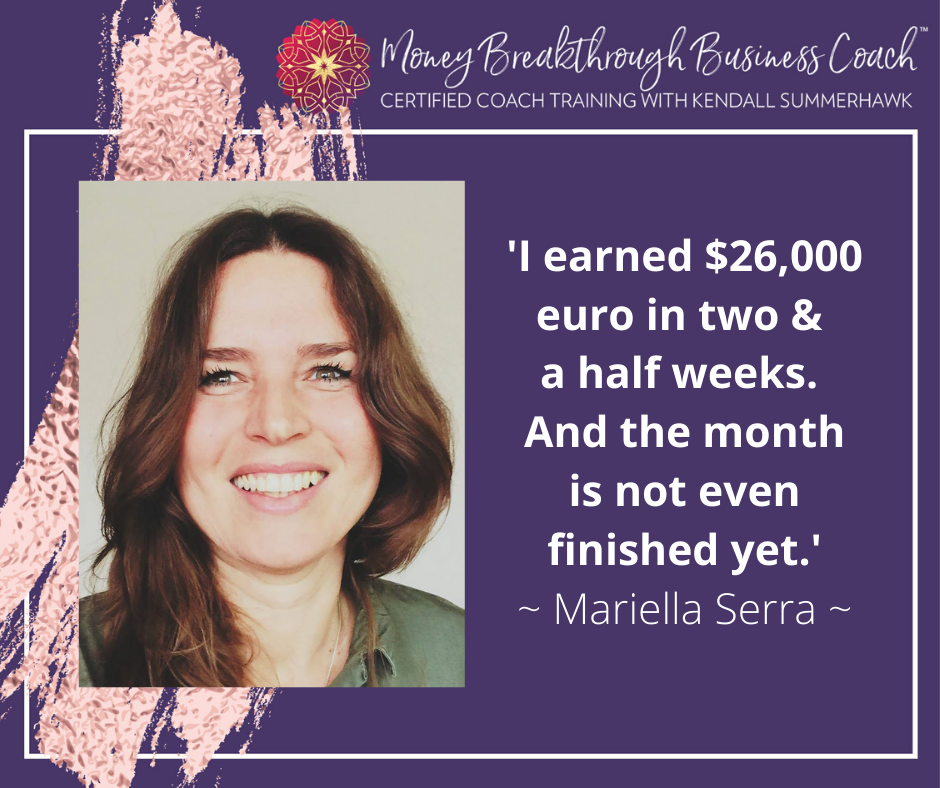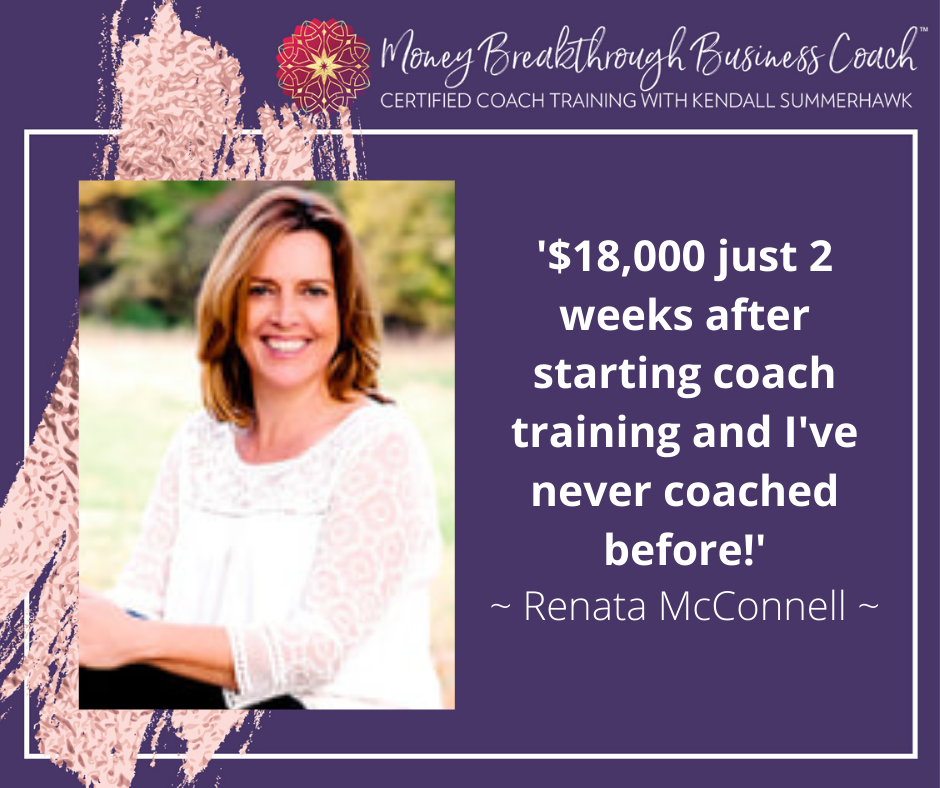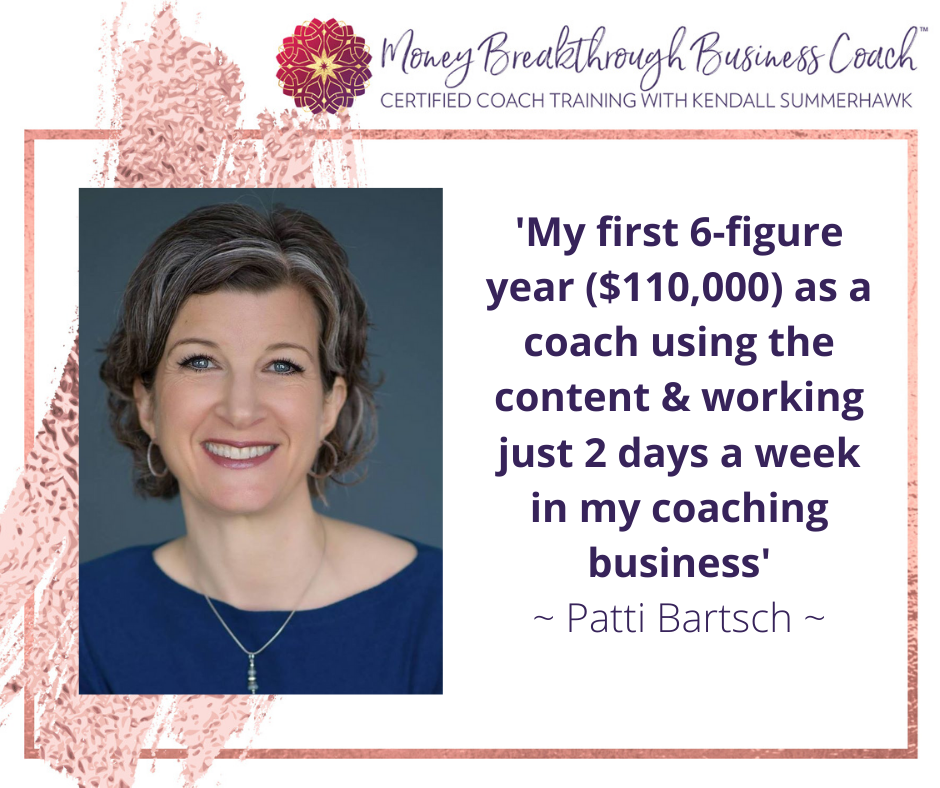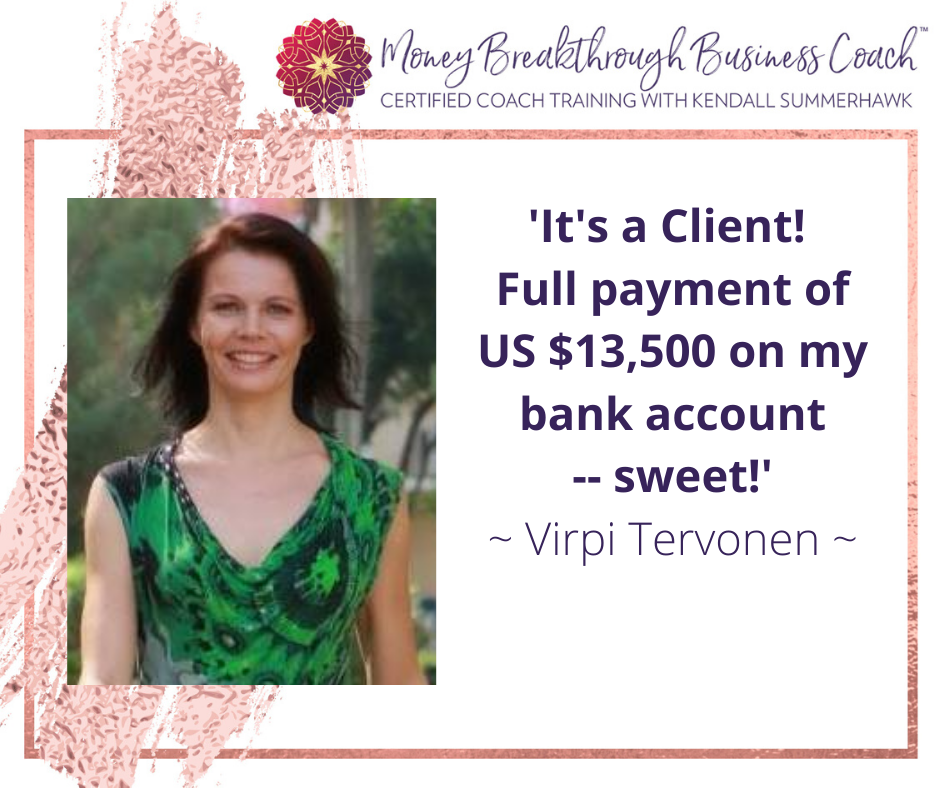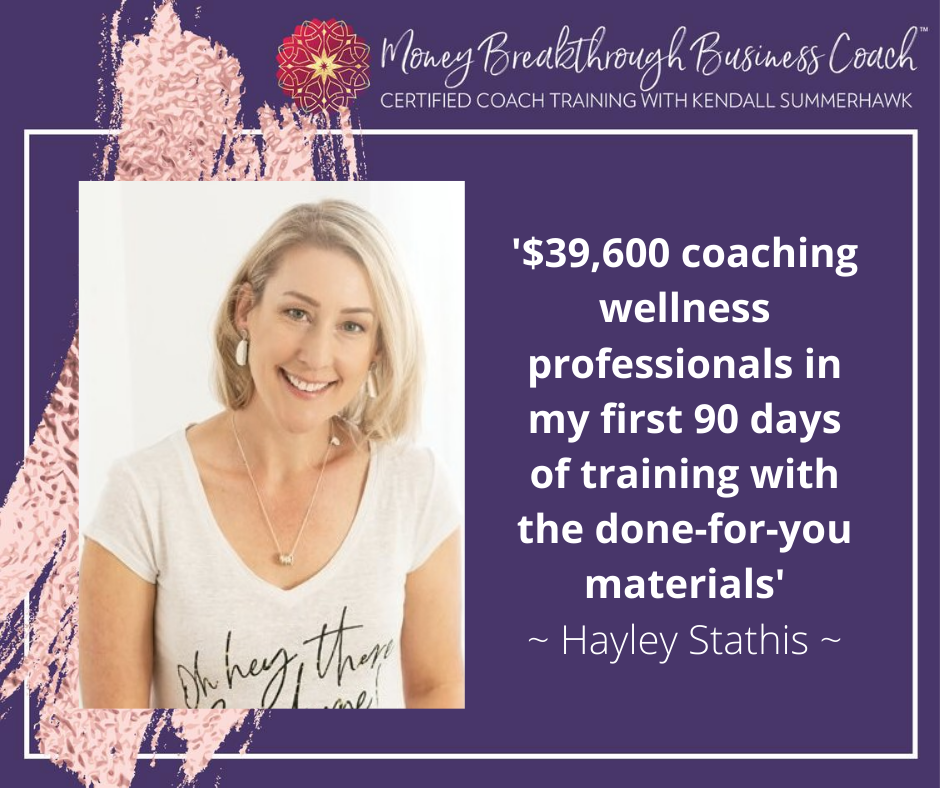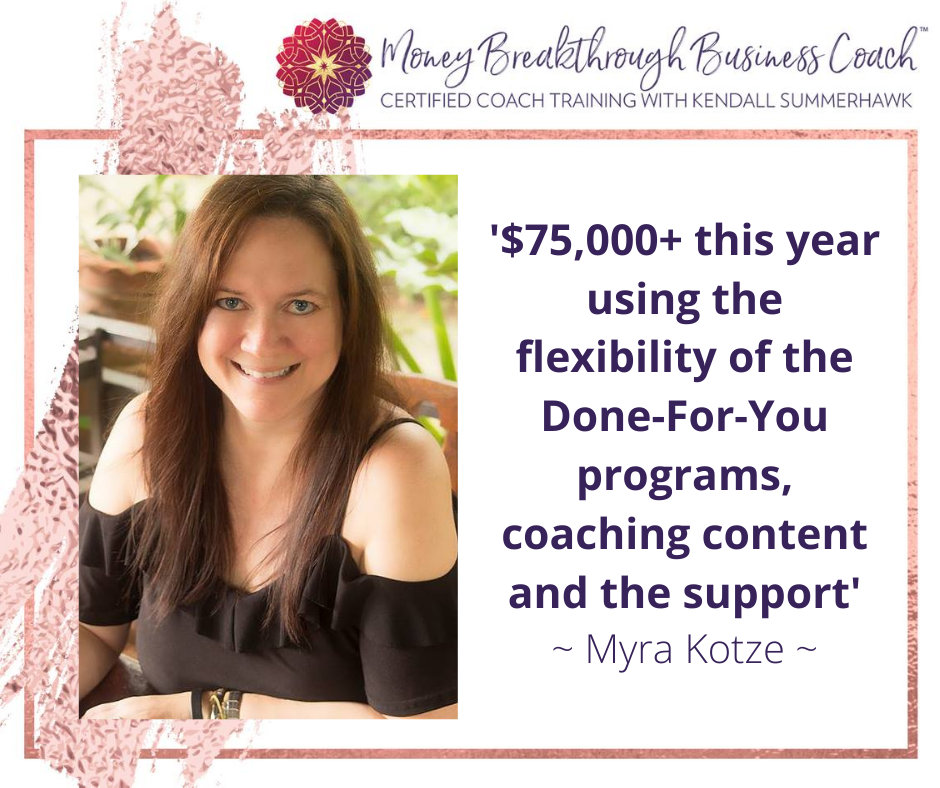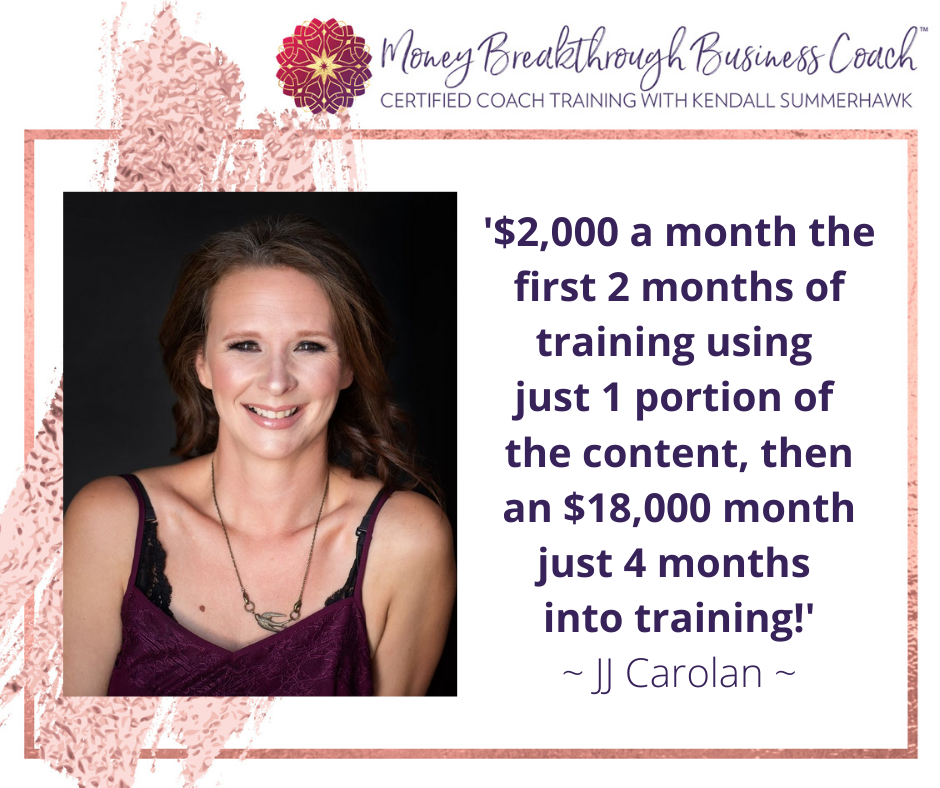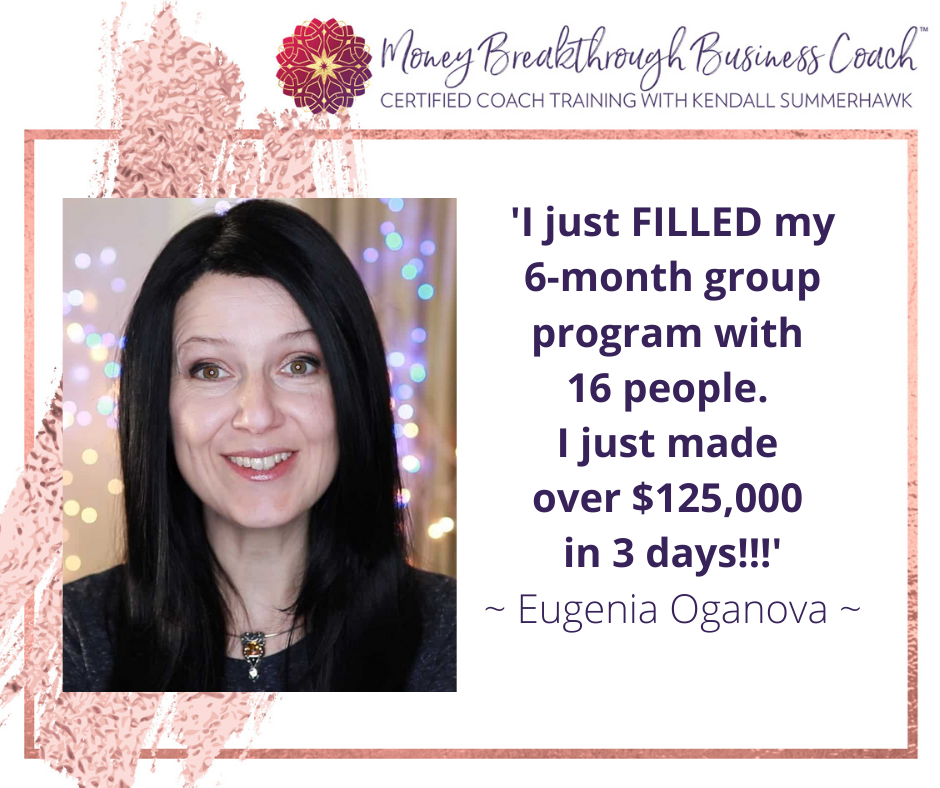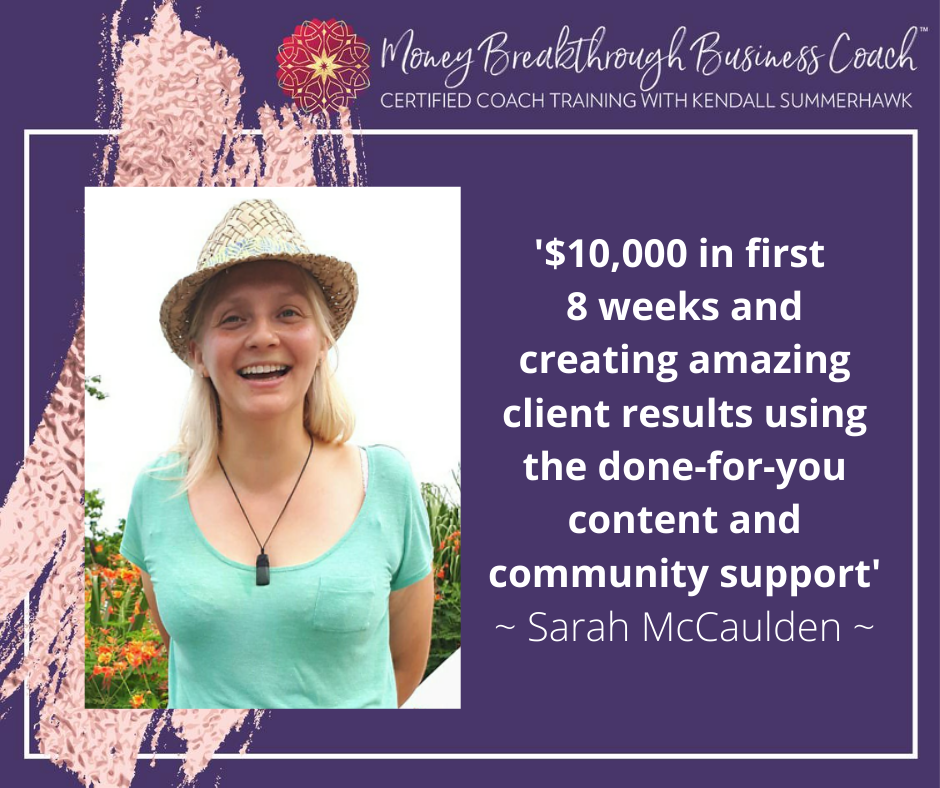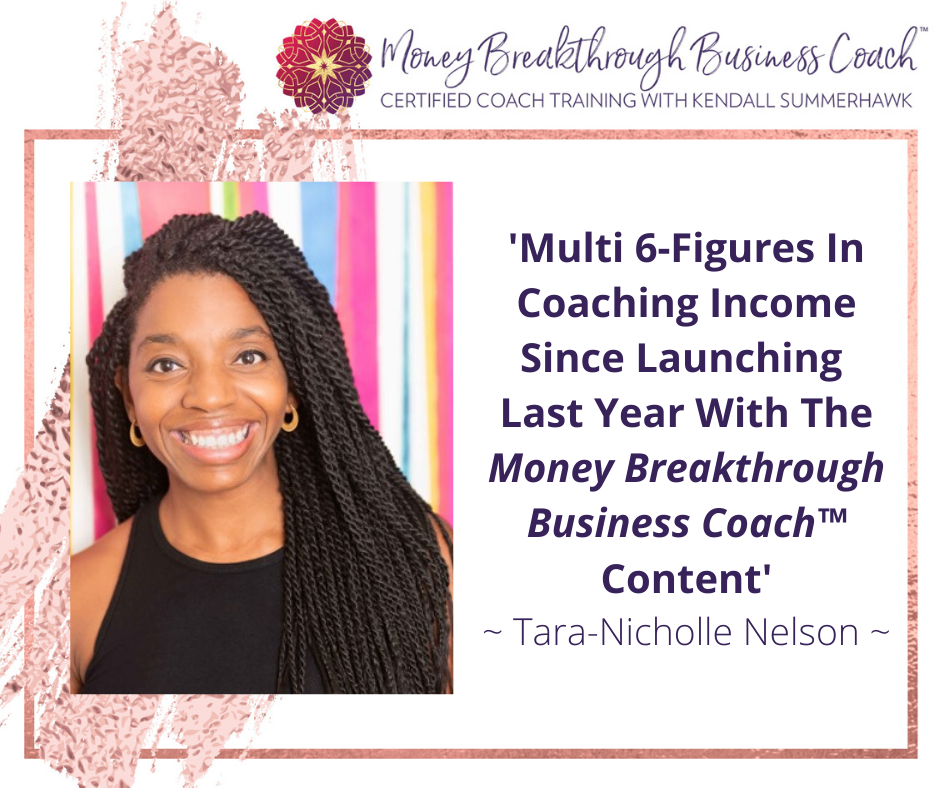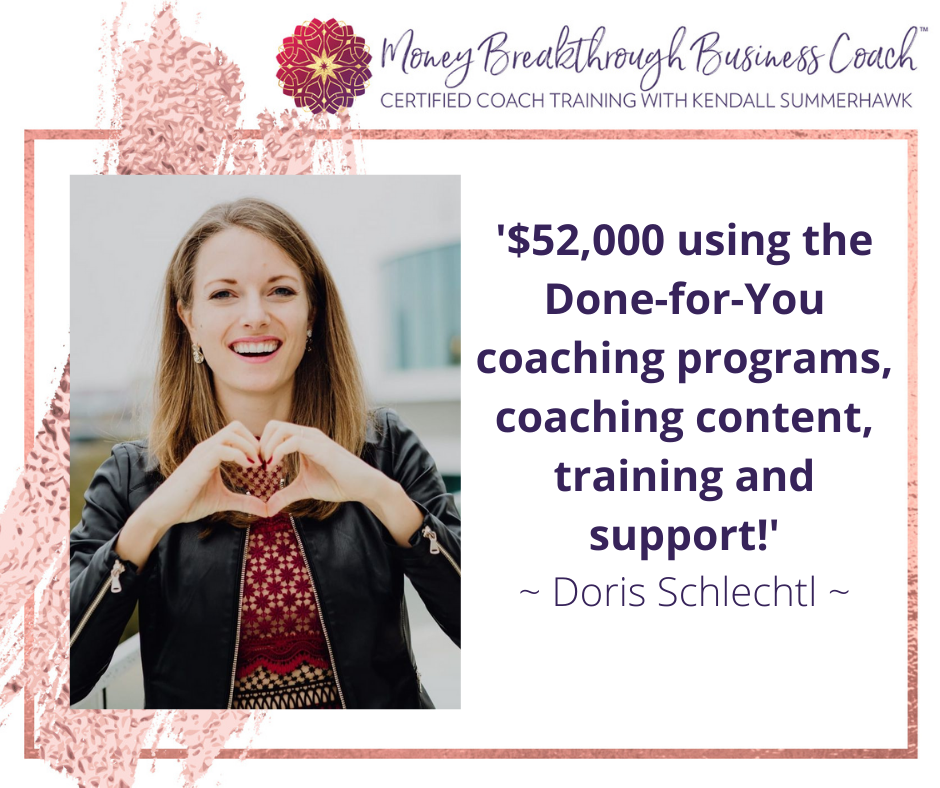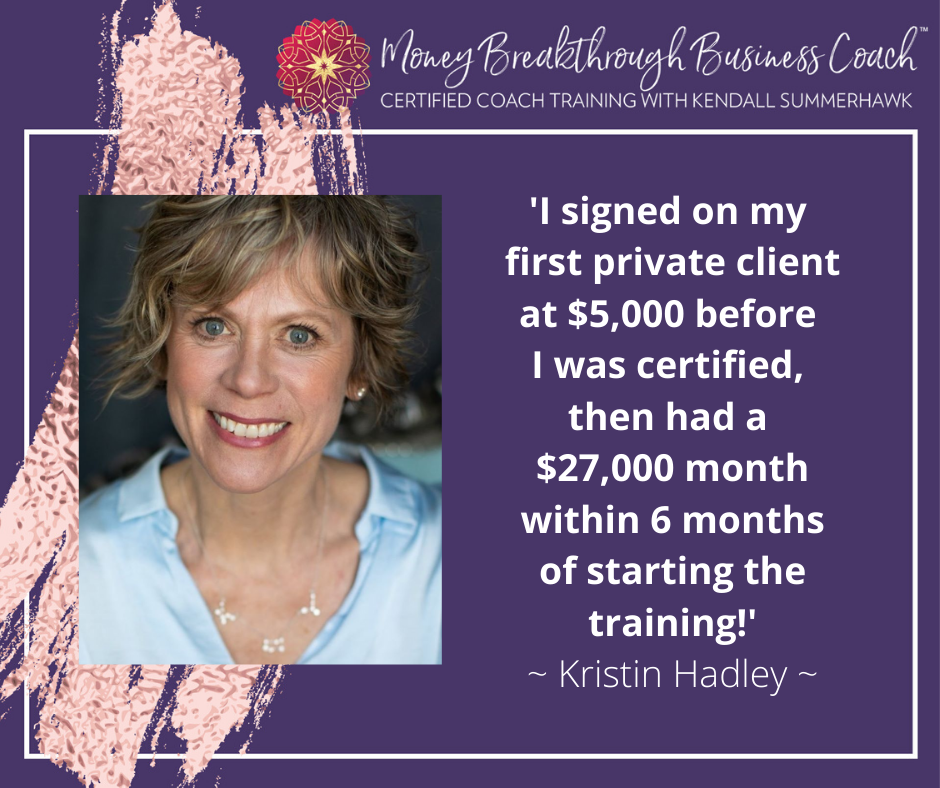 Gratitude & Reviews


For our signature coach trainings
with Kendall SummerHawk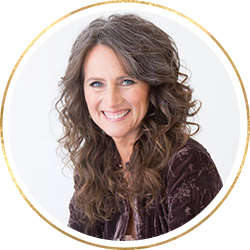 I am celebrating 7 enrollments in my new 90-day group coaching program with Certified Money, Marketing and Soul® materials. I LOVE the Discovery Session template included with our certification – it flowed beautifully for these enrollments. It was quite a learning experience in charging what I'm worth. The last 5 discovery sessions I've done all converted into full pay, early decision investments! Thank you Kendall for this awesome material! I know that I haven't even scratched the surface on integrating all of
Money, Marketing and Soul
®…can't wait! Beyond ROI!
Kristin Hadley Thompson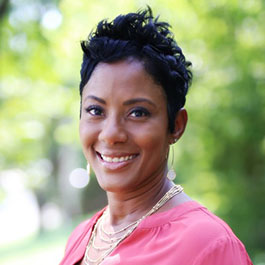 I just wanted to share that this certified coach training has truly helped me to birth an entirely new chapter in my biz. I had been struggling with this for some time, but now I feel like things are all coming together. Now that I'm armed with these extra tools I am able to organize my own signature system & deliver outcome-based packages in a way that feels 5 times more authentic and right for me. And I've acknowledged that I'm worth so much more than what I charged before!
Tanya Smith
Woohoo! Signed up my first 6 month program client, all based on material from this certified coach training! Raised my fees too, and now charging my full premium fees!
Maria Arredondo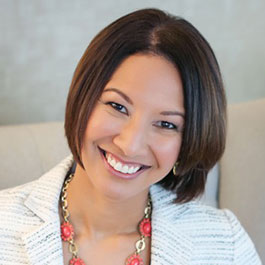 Feeling so grateful today! Grateful that my call with Coach Richard prompted me to go and get clients BEFORE my website was ready. Signed my first coaching package client today! My first full pay package client! Then the coaching call with Kendall today was icing on my cake. I have been procrastinating about creating a webinar I can use to put myself out there. Her coaching today has me in a totally new headspace. I now can't wait to sit down and start working on it. Thank you!!!
Kanani Briggs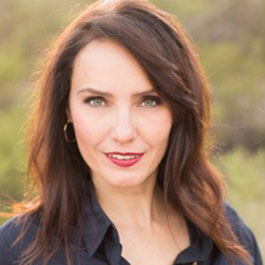 Just finishing the Branding with Archetypes module and I loooooove it even more the second time around!
Martina Blaho
Yes, yes yes! More more more! This is blowing my mind! I love it! I'm worth it! I'm looking forward to more!…These are words and phrases used by my client IN ONE SESSION alone. These coaching methodologies are not only changing her life, they are changing mine too. I hope everyone in our beautiful group is getting to experience this and more. Hugs to each of you.
Phyllis Clark
I am so proud of myself and all the amazing women in this group!! I am overjoyed to now be a Certified Coach! Some divine being nudged me to this program and I truly believe it was meant to be! I secured 2 news clients at 5k this week. Super excited to help them get their business off the ground. I feel so blessed to have found this coach training program!
Serene Carcasole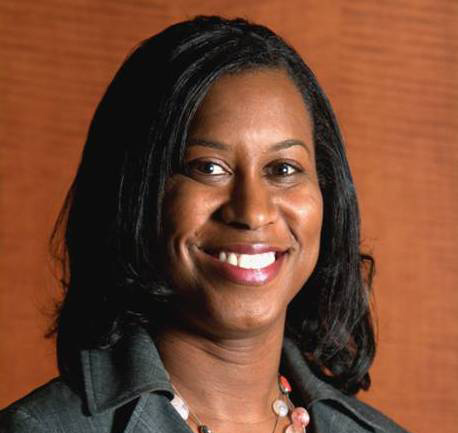 I want to thank the team so much AGAIN for providing the discovery call outline! My immediate response was 'it's worth the price of admission' and I used it this morning to sell my first enrollment. Thanks so much for that pot of gold! I am just in love with this brilliance certified coach training!
Sharell Weeams
I'm celebrating 3 new clients this week!!! Since I am so new to coaching I decided I wanted to coach 10 people ASAP so that I could get experience fast. Then I had my second coaching call with Kailash and she encouraged me to raise my "practice" prices consecutively with every new client I got. So I DID!! 3 new clients this week all paying consecutively higher. Thank you!
Mariel Alvarado
SWEET! I just enrolled my first FULL PRICE platinum client! $4995 #HappyDance
Patti Bartsch
Just realized I'm super close to hitting 7-figures with Certified Money, Marketing and Soul® content 🙂
– In my Academy program, 6 of the 12 modules were Money, Marketing and Soul® content, and I made $120,000.
– In my VIP Days, I've made Part 1 was Money, Marketing and Soul®, and I've made $37,000
– In my Marketing Nerds Mastermind Sales, I Incorporate the Money, Marketing and Soul® content into the work we do in the first month, and I've made $730,000
In total: $887,000. $113,000 more to go, and I assume that'll be reached here shortly! WOOHOO!
Amanda Goldman-Petri
Super excited to be going through the Sacred Money Archetypes® material. I LOVE this material so friggen much!!!! If anyone else is doing Sacred Money Archetypes® and wants to practice or wants a reading – I'm taking the BONUS challenge to heart and would love to practice more readings… let me know if you're interested.
Maria Mellano
I got certified right away….but I forgot to tell everyone because I have been so full with clients! The MMS content has helped to make me a better coach as well as addressing liming beliefs that were holding me back. What a wonderful training program. Worth every penny!!!
Angela Stocke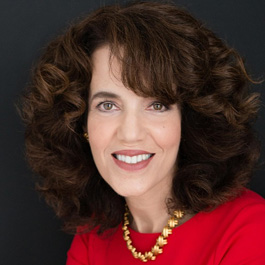 I will always be grateful that I chose to begin my coaching journey with Kendall Summerhawk and her amazing team. The Certified Money, Marketing and Soul and Sacred Money Archetypes coaching certification programs have given me an incredible foundation from which to build my business. The program content is rich and can be applied in many arenas, with individuals and groups. Being in a community with Kendall has been priceless and it is not just about the content. She truly desires for us all to be successful in our own way. Also, the support from master coach Richard has been empowering. I have literally doubled my fees since working with them. I will always be grateful for choosing to be in their programs.
Eleni Anastos
I knew within the first 15 minutes of Kendall's 3 Simple Steps to Design, Market and Price Lucrative VIP Days webinar that Kendall was "my person" for showing me how to lead VIP Days. Why? I felt like she was talking directly to me. Her gentle, yet whip-smart teaching style enabled me to drop habits and limiting beliefs that were causing me to under earn (and underperform) during the VIP Days I had been leading. Prior to finding Kendall I packed waaaaaaaay too much into one day (which wasn't serving me or my VIP Day clients) AND I falsely believed the only way I could lead VIP Days was to focus on how to make my clients money.
I now lead VIP Days where my clients and I focus on developing signature keynotes, create speaker reels, and put together corporate trainings and retreats. I've been able to market VIP Days to my mastermind clients, add them as up sells on the front and backend of retreats, and most importantly, when I lead them they energize rather than deplete me. Whether you have never led a VIP Day and want a high-level offering you can immediately market to clients (and the structure, pricing and marketing know-how to avoid common pitfalls), or you want to up level the way you lead VIP Days to do them with more ease (and to earn more profit), I can't recommend VIP Day Quick Profit Secrets enough!
Alexia Vernon
Women's Public Speaking and Leadership Coach
YayYayYay I've done it too. I'm a Certified Money Marketing and Soul Coach!!
Thank you to all the buddies who have helped me – You've all been so generous with practice. And to Richard, Kailash for the 1;1 calls and of course Kendall for an amazing course with loads of insights, mindset teaching and a real feeling of love for each one of us. Xxxx
Alison Haill
The more I listen to the content of this course the more in fall in love with it I am so grateful I found my way here!
Clair Wilson
CELEBRATION
I have now signed my first PREMIUM client for good. Money in on the way to my bank account!
(This is the first time I have signed up for a program and actually make my investment back directly from it -twofold- before it even finishes. IN AWE and so grateful!)
Maria Arredondo
I invited yet ANOTHER $12,000 (payment plan) premium perfect client into my business practice right now
I'm celebrating!!! Never assume who can/can't afford your services. Just show up.
This recent client came through because she knew me from an event a few years back. She felt called to reach out to me (didn't even know i was a business coach). The call took so long because there were high emotions. I'm noticing my anxiety around saying my price has much decreased, but i still struggle with the payment plan part and brainstorming how to find money part. Don't give up! Keep on the train!!!!!
Okay so basically now that i've made my 3 premium package signups…. (that was the number i set for myself for no longer doubting myself)…. i have no excuses anymore.
Jo Huang
"Thought I'd update you with results of Money, Marketing and Soul® since I certified last month. I launched my own mastermind group which sold out with 8 ladies, netting nearly 40k.
I've had another 5 figure month purely from passive income in my coaching practice. I recently featured on a podcast and as a result of all of this, I've got more 1:1 clients, my email list is growing like crazy and I am FULLY owning my identity statement.
Harriette Hale
I signed on a new client at the beginning of the week for a 90-day-programme. Had the first coaching with her this morning, and we already landed a first major breakthrough. Soo looking forward to our next call now, as she seems really motivated (and so am I). Courageous Coaching worked just fabulous!
Silke Hable
My first 5.000€ client with Certified Money, Marketing and Soul® material!
I didn't even expect to get a 5.000€ client yet, because I didn't produce my 6 month program yet. I had my steps laid out in my head, but I didn't have anything on paper yet.
I am so confident that with the Money, Marketing and Soul® material and a bit of my own wisdom (I'm a Ruler-Sage ) I totally can help this woman start making money with her new business.
She told me already on two occasions 'Since I met you my live feels totally different already!'. Thank you Kendall and Team for that!
For me, this was a confidence breakthrough I needed.. Now I'm fired up and can't wait to get more of these 5.000€ clients
Isabelle Verhelst
"I'm writing this to you on the eve of my 2nd SOLD OUT LIVE EVENT! I have women coming in from 5 different states – all to learn from me!
I can't even believe I'm going to say this – but I'm literally a 6-figure business owner!! Through the work that I do – I'm able to fully support myself, my daughter AND invest in my business to continue to reach and help more women!!
I use Sacred Money Archetypes® with every single client to strengthen their sales conversations and that alone is the BIGGEST game changer for them.
You stepping into and owning your power and brilliance saved and changed my life – and now the lives of so many more!!
I am forever thankful for all you've done – and all you will continue to do for women here and beyond!
Liz Dederer
CEO & Founder
SELLING WITH SERVICE
Inspiring Stories


let these women
tell you their story
Discover Your Unique Money Personality & Get Instant Access to This New, 3-Part Money Training That Includes:
Fascinating, key insights about your specific money personality, and how you can start easily applying these to boost your business & income.
That sneaky 'boundary shadow side' to watch out for and practical tips on how you can create supportive boundaries that feel good for YOUR unique money archetype (TIPS Included).
8 simple ways to make more money in your business today with Sacred Money Archetypes® (CHECKLIST Included).
INCLUDES DOWNLOADABLE WORKBOOK + 3-PART VIDEO MONEY TRAINING…ALL FREE